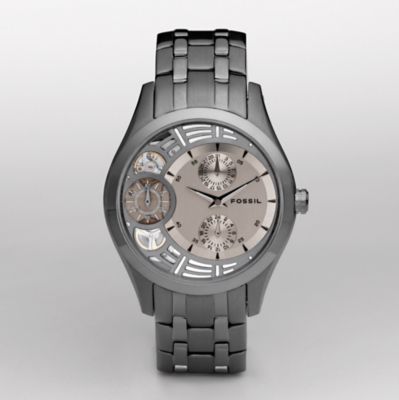 I haven't gotten a new watch in many years. I like them, but i'm pretty hard on them, whacking them into things, clipping doorways and such, so I don't go for the crazy expensive ones. This year though, while walking in Downtown Disney (a pedestrian mall in Anaheim), gravity sucked me into the Fossil shop and I fell in love with a watch, and my wife got it for me for Valentine's day. It's really butch. Kinda topped me, even; I have submitted to my watch.
It's one of those deals that charges its internal battery as you walk around, and the design lets you see the, I dunno, little alternator thingy wobbling about. Tom Wynn was with us, betraying a silent longing for an automatic
wristwatch like this, but I just like seeing the watch movement.
It's very heavy, it's going to take some getting used to on my arm. And I think I need to take out one more link. But it wasn't exorbitantly expensive and it's a little piece of happiness on my wrist. Thank you, honey.